This hairstyle is a lot easier than it looks. All you need to be able to do is a basic 3-strand braid, then the rest is just weaving the braid back and forth in the right pattern!
This post is all about how to do a heart braided hairstyle for beginners!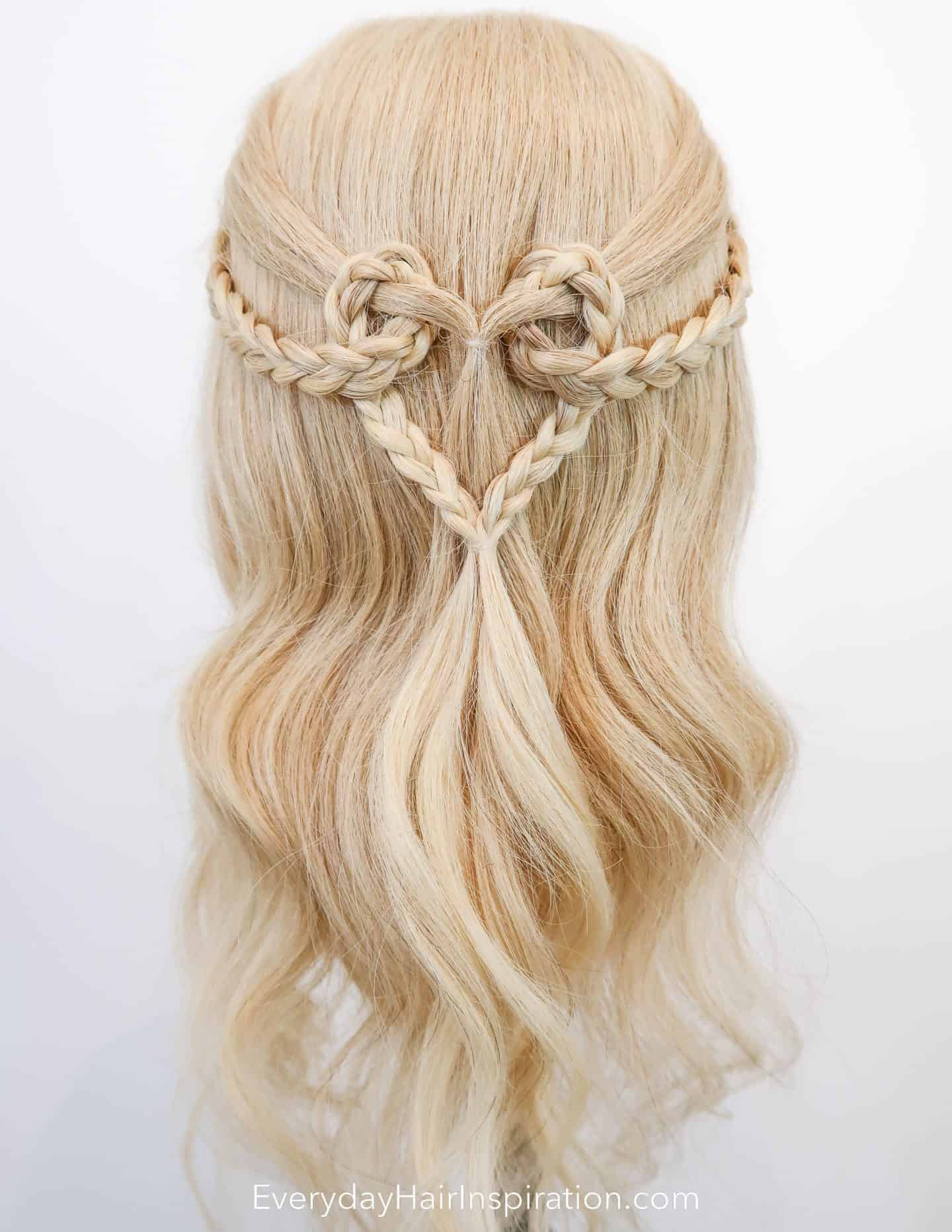 A half up half down hairstyle is a great style to do, as it´s a very romantic and feminine hairstyle and it keeps your hair out of your face, so win-win! You can do this hairstyle on straight, wavy, or curly hair, it will look great! I decided to curl the hair as it gives a softer look to the overall hairstyle.
If you are looking for another half up half down hairstyle, then check out my playlist with all the half-up hairstyles I have filmed (Click here – "Half up Half Down hairstyles Playlist").
Things you will need to create this braid
The links below are affiliate links. That means that at no additional cost to you, I will earn a commission if you click through the link and make a purchase. Read more on my disclosure page – click here to read.
Find all of my recommendations on hair products here – Clik here to read!
Braided heart hairstyle step by step
Grab a small section from each side of the head and tie them together at the back of the head
Grab a second section below the first section and split the hair into 3 equal sections
Braid the hair into a basic 3-strand braid
Repeat step 3 on the other side, so you have 2 braids
Now bring the hair under and up the not braided strand of hair
Then bring it down over and then under the braid again, so you have created a circle
Repeat step 6 on the other side so you have 2 halves of the heart
Bring the 2 braids together in the middle and tie them together to create the bottom point of the heart
Remove the elastics from the bottom of the braids and untangle the part of the braid you haven't used
Other Heart Braided Hairstyles
Romantic Braided Heart Half Up Half Down Hairstyle
If you want to try out another heart hairstyle, that
This post was all about how you can learn to do an easy and simple heart braided hairstyle as a complete beginner!