This celtic knot hairstyle is perfect for parties, weddings, or any other special occasion you can think of! It's quite simple to do and you will earn tons of compliments on your hair!
This post is about how to do a celtic knot!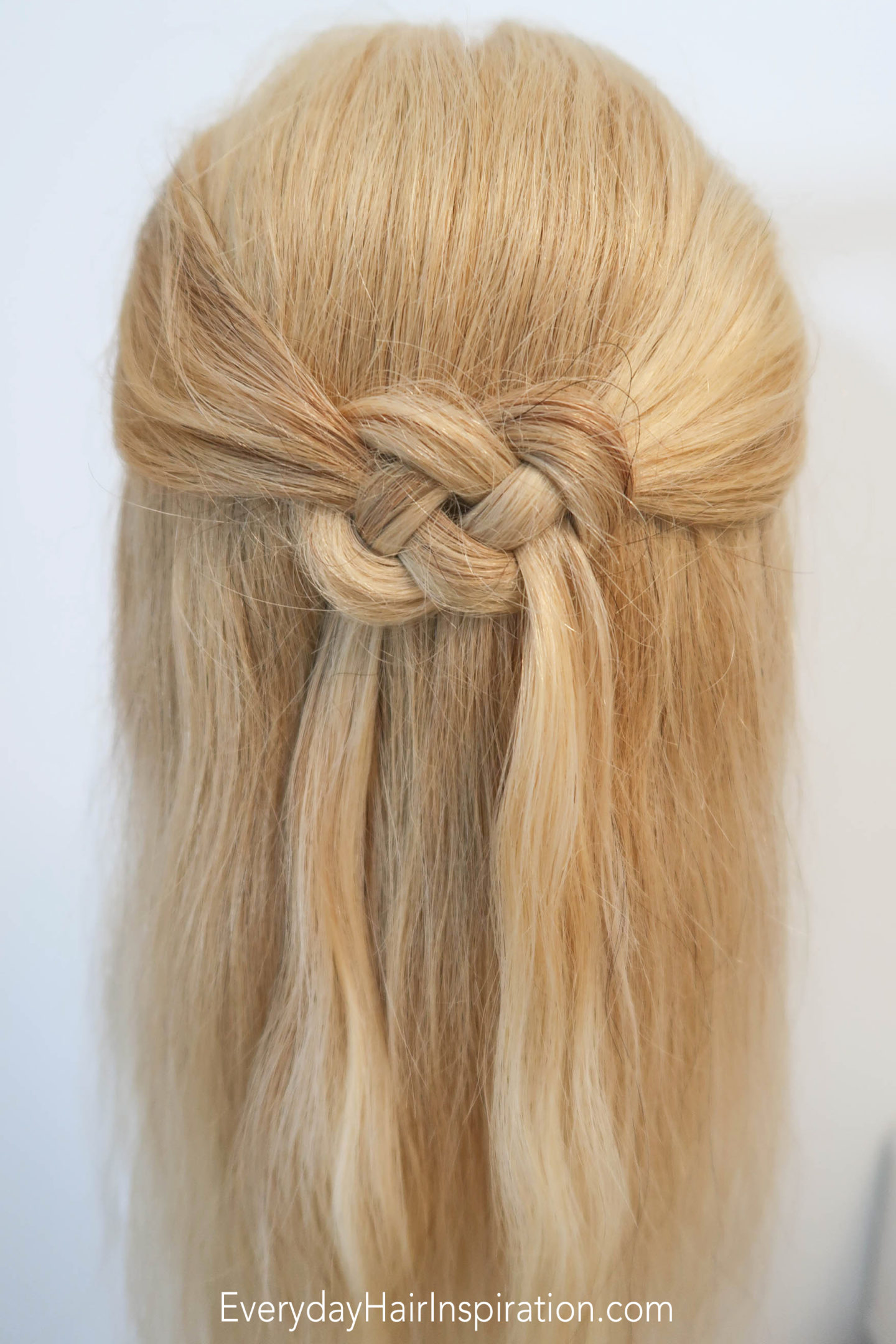 Celtic knot Half up Half down hairstyle
This hairstyle will work best on long hair, but you can do it with short hair! Simply use 2 one clip extensions and clip them in the hair you want to pull back, to have some more length to work with. This is quite tricky to do in your own hair but with some practice, patients, and a handmirror! But it's a beautiful half up half down and such a different hairstyle, so it's worth doing!
If a celtic knot is too advanced for now, then try a normal half up half down hairstyle with a braid instead. I have linked some other easy and straightforward half up half down hairstyles for beginners further down below for you to check out!
Things you might need to create a celtic knot
The links below are affiliate links. That means that at no additional cost to you, I will earn a commission if you click through the link and make a purchase. Read more on my disclosure page click here.
Find all of my recommendations on hair products here – click here!
How to do a simple celtic knot for beginners
I'm not even going to try to do a written step-by-step guide on how to do a celtic knot, because I don't know how to explain it without visuals, so please watch the video below if you want to learn how to create a celtic knot!
More braided half up half down hairstyle
4 different waterfall braided half up half downs
A waterfall braid is always a good option when choosing a hairstyle! In the video below you have 4 different options and 2 of them don't require any braiding! To give the waterfall braid half up half down hairstyle the ultimate feminine touch, then curl your hair to some loose beach waves!
Heart-braided half-up hairstyles
A heart-braided hairstyle will definitely get you compliments! It looks so cute and beautiful, so definitely give this one a try! It's perfect for special occasions, parties, weddings, or whatever you have recently been invited to! To creat these braided hearts, all you need to know is how to 3 strand braid and lace braid.
3 strand braided half up half down hairstyles
Some of the hairstyles in this video are quite advanced, but there are a few hairstyles that are quite simple to do. the base of all the hairstyles is a 3 strand braid and a lace braid. So the braids are not that difficult to do, but putting everything together can get a bit tricky! But feel free to go for a braided viking hairstyle with intricate details!
This post was all about learning to do a braided half up half down hairstyle with a simple celtic knot!