We are taking it back to the basics with 5 basic braids for beginners! A dutch braid, a french braid, a french fishtail braid, a dutch infinity braid, and a french rope braid.
These 5 braids are all really beautiful and if you braid your hair into one of the braids, I promise you, you will get lots of compliments on your hair all day long!
The dutch braid, french braid, and french rope braid are great braids for everyday hairstyles. The french fishtail braid and dutch infinity braid takes a bit longer to do, so those are great for the weekends or days off, where you got a bit more time for braiding hair!
This post is all about basic braids for beginners!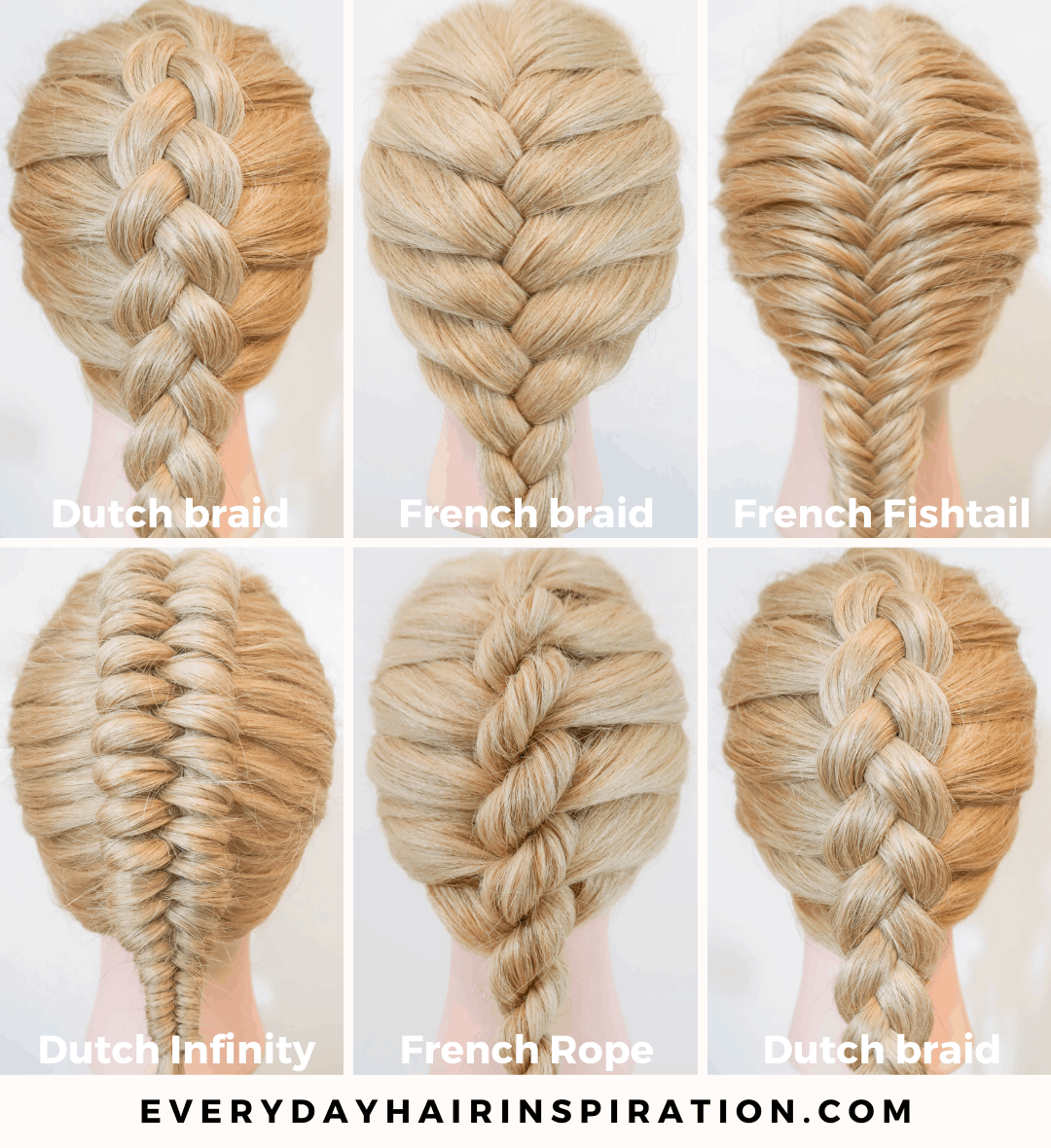 5 Easy Braids – Beginner-friendly hairstyles!
These 5 braids are all french/dutch versions of the braid, which means you add in hair when you are braiding. If you are a complete beginner to braids, then check out my "6 Beginner-Friendly braids" (video linked down below). In that video, I show you 6 braids that are level 1 braids, where you don't have to add in hair while braiding.
If you don't want a single braid down the back of your head, then just split your hair into 2 sections and do a double braid. All of the braids look amazing as double braids and then it's also a bit easier to see what you are doing!
Things you will need to create a these 5 braids
The links below are affiliate links. That means that at no additional cost to you, I will earn a commission if you click through the link and make a purchase. Read more on my disclosure page – click here to read.
Find all of my recommendations on hair products here – Clik here to read!
5 Different braids for beginners
1. How To Dutch Braid
A single dutch braid is a great braid to know. It will keep your hair out of your face and if you are looking for heat-less waves, then give this braid a try overnight! It doesn't take that long to do and you will love the results! Like any other braid, you can also divide your hair into 2 equal sections and do some double dutch braids.
2. How To French Braid
A french braid is a must-try braid! It's so classic and timeless and it's an amazing go-to hairstyle for late mornings or for second or third-day hair, even fourth-day hair! You can also braid your hair into 2 braids and create double french braids. Definitely give this braid a try!
3. How To French Fishtail Braid
A french fishtail braid looks beautiful, but it does take quite some time to braid it and it also has a built-in arm workout! You can take bigger sections of hair to cut down on time, but you will lose some of the unique fishtail pattern. If you are a beginner then try out a basic fishtail braid, before giving the french fishtail braid a try!
4. How To Dutch Infinity braid
A dutch infinity braid is such a unique braid and you can braid this into a ponytail like the video below shows, you can create a braided updo or even create a half up half down hairstyle! You can take bigger sections to make the braid quicker to do or smaller sections to get even more detail to the braid. There are so many ways you can do this, so deffiently give it a try!
5. How To French Rope Braid
If you don't want to french braid or dutch braid your hair, then a french rope braid is the braid to try! It gives sort of the same effect, but it only has 2 strands instead of 3, so fewer strands to handle when braiding! A french rope braid does also look beautiful in a double braid so this is on the must-try list!
This post was all about braids for beginners, so now it's time to pick a braid and give it a go!