Today you are going to learn how to braid your own hair! If you are a complete beginner and know nothing about braids, then this video is for you! You will learn beginners braids, medium braids and advanced braids! So you will be able you find some braids, that fits your skill level!
I have put together all my best tutorials together into 1 big video. So now you don´t have to search around on the internet anymore, you can just check out this video and find everything you need.
This post is all about how to braid your own hair!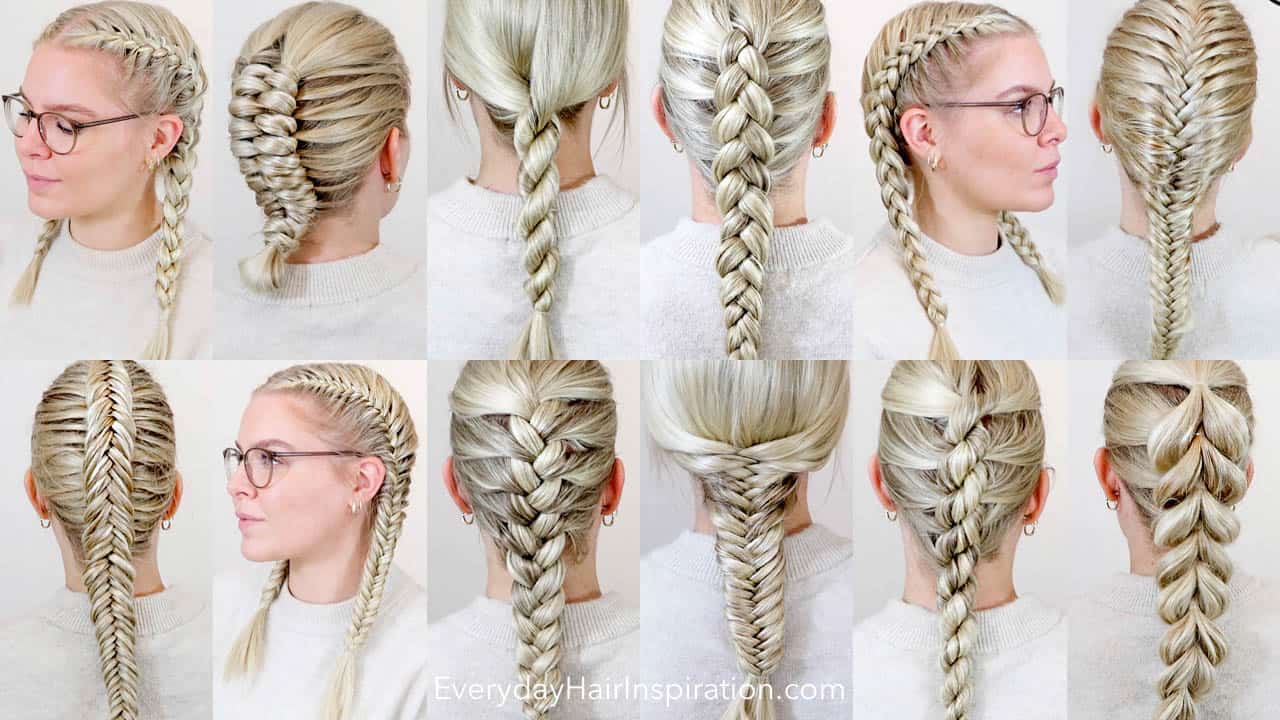 15 Must-Try Braids For An Everyday Hairstyle
Braids are so great for an everyday hairstyle, because they dont take that long to do and they will keep your hair out of your face the whole day! You can do a simple basic braid where you dont add hair in, a single french or dutch version of a braid or double braids! So there are plenty to choose for and you can easily find a braid in this video for what ever occasion you need!
So if you need some inspiration for everyday hairstyles then check out the video below where I show you how to braid 15 easy braids step by step!
Things you will need to create these braided hairstyles
The links below are affiliate links. That means that at no additional cost to you, I will earn a commission, if you click through the link and make a purchase. Read more on my disclosure page click here.
Find all of my recommendations on hair products here – Clik here to read!
How to braid your own hair for beginners
If you are looking for just 1 of the braids, then all individual videos will be listed down below.
How to 3 strand braid (Hand placement & Full talk through)
A 3 strand braid is where to start if you have never done a braid before! Its super easy to do and you can braid the hair down your back or choose to pull the hair out to the side you can braid the best on. and then do a cute side braid!
How to pull through braid for beginners
If you dont want to braid, but want the look then the pull through braid is the braid you need to try. This "braid" is only made out of small ponytails and elastics!
How to fishtail braid step by step for beginners
A fisthail braid is such s cute braid and its so simple to do! Like the 3 strand braid, you can do the fishtail braid down your back or to one side!
How to dutch fishtail braid for beginners
A single dutch fishtail braid is the most beautiful braid you can ever do im my opinion! Its so beautiful and its so comfortable to wear, but it does take a while to do! This braid took me about 25 minutes do, so not the quickest braid ever.
How to French rope braid for beginners
Double french rope braids is such a great alternative to double french braids! You only have 2 strands to work with, compared to a french braid that has 3 strands, so this might be a bit easier to do for beginners!
How to French braid your own hair (The easiest 5 minute braid)
A single french braid is perfect for an everyday hairstyle, because it take only 5 minutes, when you have the technique down! In this video you can follow along to the french braid and I explain how to hold the hair and move it around!
How to dutch fishtail braid for beginners
A double dutch fishtail braid takes a while to do, but omg its pretty! There is so much detail in this braid and it looks so unique. It´s very easy to do, but your arms will burn, so this is also an amr workout!
How to double dutch braid for beginners
Double dutch braids are so popular and a great hairstyle to do! It's perfect for workouts or running, or whatever event you can think of! Its very easy to do and in this video I talk you through the whole braid from top to bottom!
How to dutch infinity braid for beginners
A dutch infinity braid gives such a cool look to whatever hairstyle you put it in! You can use it in an updo or as a half up half down hairstyle, where you stop the braid after only a couple of stitches, so you get the half up look.
How to dutch braid for beginners
A dutch braid is a need-to-know braid! When you know the technique by heart, you can create this dutch braid in only minutes! A dutch braid can also give you create heatless curls if you leave the braid in your hair overnight!
How to French fishtail braid for beginners
If you want to take a basic fishtail braid to the next level, then you need to try out a double french fishtail braid. This braid will take a while to do, but you can take bigger sections to get done quicker, but by doing that you will loose some detail in the braid.
How to French rope braid for beginners
A single french rope braid is a great alternative for a french braid or dutch braid. It's not the same, but it will give the same effect!
How to french Rope braid for beginners
Double french braids are very popular and I can see why! It looks absolutely amazing and it is also very practical! So if you haven't tried a double french braid yet, then give it a try!
How to French Fishtail braid for beginners
If you don't want a basic fishtail braid or a dutch fishtail braid, then you are in luck. The fishtail braid does also come in a french version! If you want more detail in the braid than what's in mine, then take even smaller sections.