A fishtail braid is such a beautiful braid, but if branding is not for strength, then this no-braid faux fishtail braid is for you!
Doing a fishtail braid hairstyle this way, you can take breaks when your arms are burning and tired and it will last much longer and won't unravel as a "normal" fishtail braid might do!
This post is all about how to create a faux fishtail braid!
THINGS YOU MIGHT NEED TO CREATE THIS HAIRSTYLE
The links below are affiliate links. That means that at no additional cost to you, I will earn a commission if you click through the link and make a purchase. Read more on my disclosure page – click here to read.
Find all of my recommendations on hair products here – click here to read!
Faux fishtail braid For Beginners
A french fishtail braid can be quite difficult to do because the sections of hair are quite small and you have to cross the sections over each other quite a lot, so you can easily lose some hair when braiding. That problem is one thing you will not find when doing this faux fishtail braid hairstyle!
There are a lot of elastics in this hairstyle, so you could probably sleep with this hairstyle in your hair and wear it for another day, it might be a bit looser, but I think it will still look nice! Let me know how it goes if you try it!
You can also create a half-up half-down hairstyle, by just stopping halfway through, or maybe a bit before that, depending on what look you are going for!
Easy Faux Fishtail Braid For Beginners – How to Fake A Fishtail Braid
How to take out all the elastics
Taking out the elastics in this hairstyle would be horrible if you had to take out every single one and quite painful. But luckily you can buy this tiny tool, that will make the process of taking down the hairstyle SO much easier and cute the time way down!
This little tool can cut out the elastics in seconds without cutting your hair. It's so easy to use and is a must-have for hairstyling! – Click below to buy!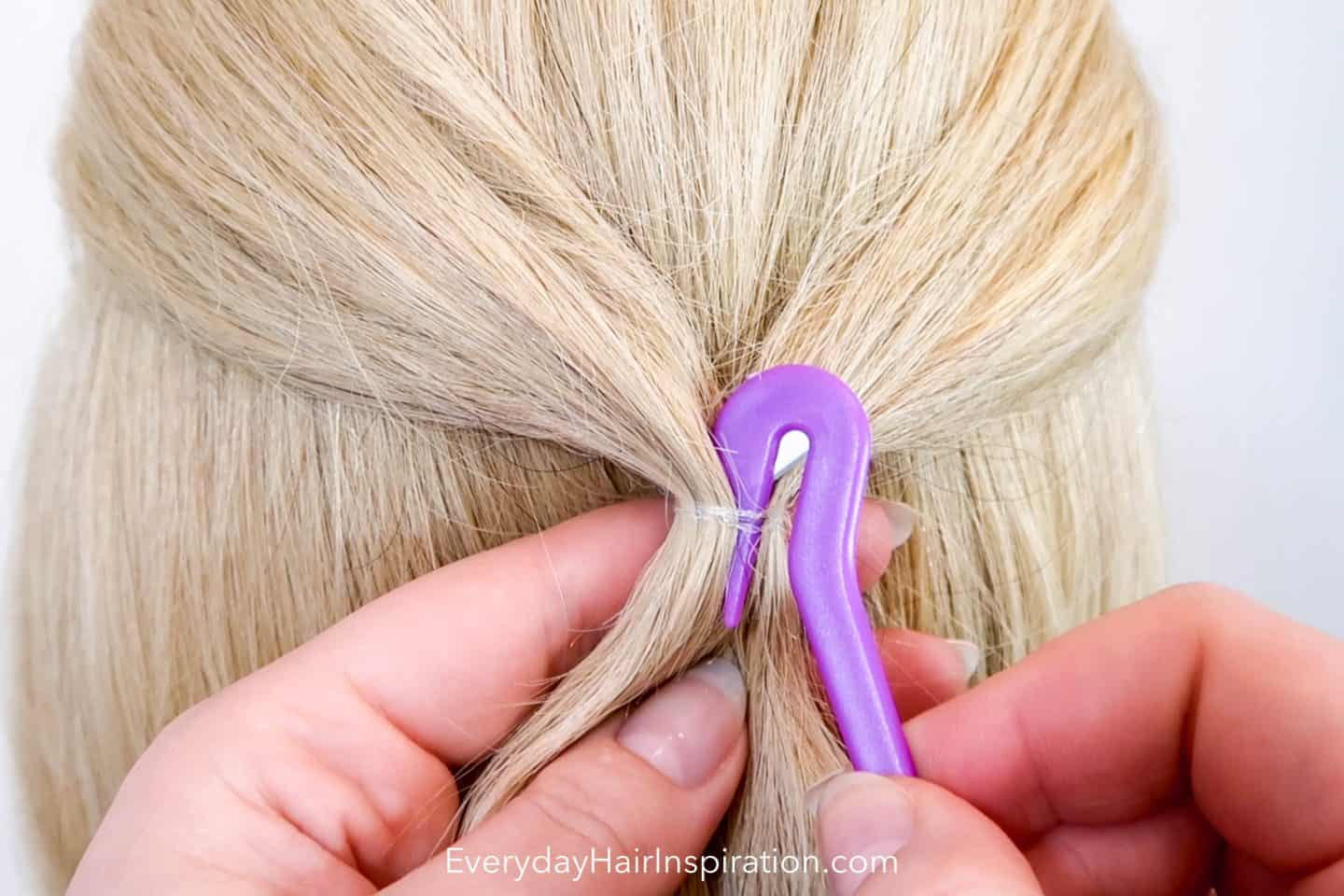 How to faux fishtail braid step by step
Time requirement: 25-30 Minutes
Skill level: Easy
STEP-BY-STEP GUIDE
Create a small ponytail at the top of the head
Take a small section of hair on both sides of the previous ponytail and tie the hair together
Take the new ponytail and flip it up and towards the face and down under itself again
Pull in the hair in the ponytails to fluff the hair and give the hairstyle some volume
Repeat steps 2-4 until you reach the nape of the neck and there is no more hair to add to the braid
When there is no more hair to add in, take a section from the back of the hair hanging down and pull it forward to create a ponytail
Now flip the hair like before and pull in the hair to give it volume
Repeat steps 6-7 until you reach the end of the hair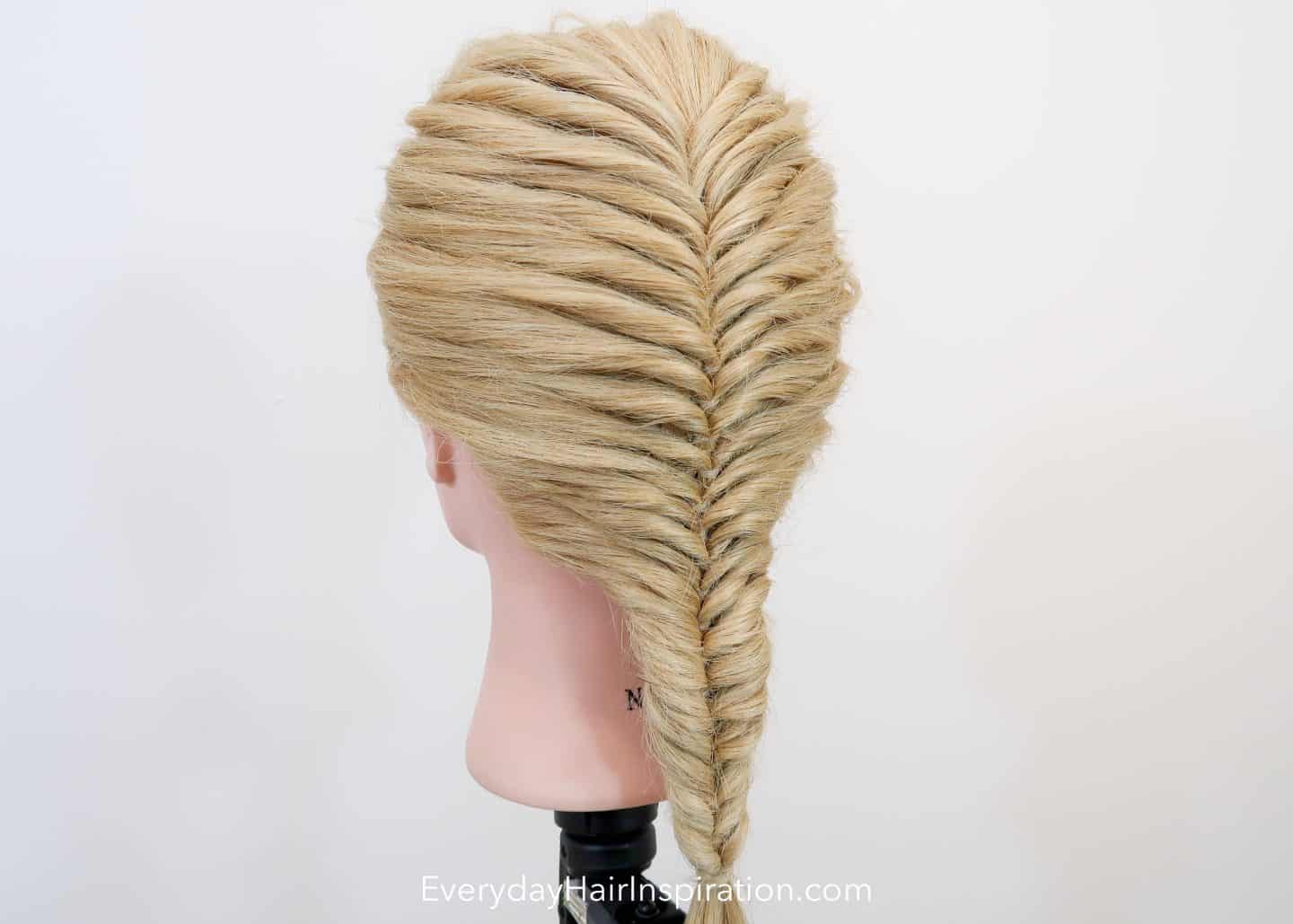 More faux Fishtail and Real Fishtail Braid tutorials
Basic faux fishtail braid
If you want to do just a basic faux fishtail braid in a ponytail, you can check out this tutorial, showing you how to fake a basic fishtail braid. You can also do this "braid" in a low ponytail depending on what look you are going for.
How to fishtail braid in 6 different ways
If you want to learn how to fishtail braid, but don't know where to start, then check out this 6-in-one video, where I show every single way of fishtail braiding, from beginner-friendly to more advanced braids!
How to fishtail braid your own hair in 5 different ways
If you want to fishtail braid your own hair, then check out this video, where I have put together 5 different ways to fishtail braid. There are double braids, single braids, and french and dutch versions! Everything you need!
This post was all about how to create an easy faux fishtail braid for complete beginners!