Today I'm showing you an easy way to fake a fishtail braid in a bubble braid!
It's so simple and easy to do and it looks more complicated than what it is!
This post is all about how to do a fake fishtail braid!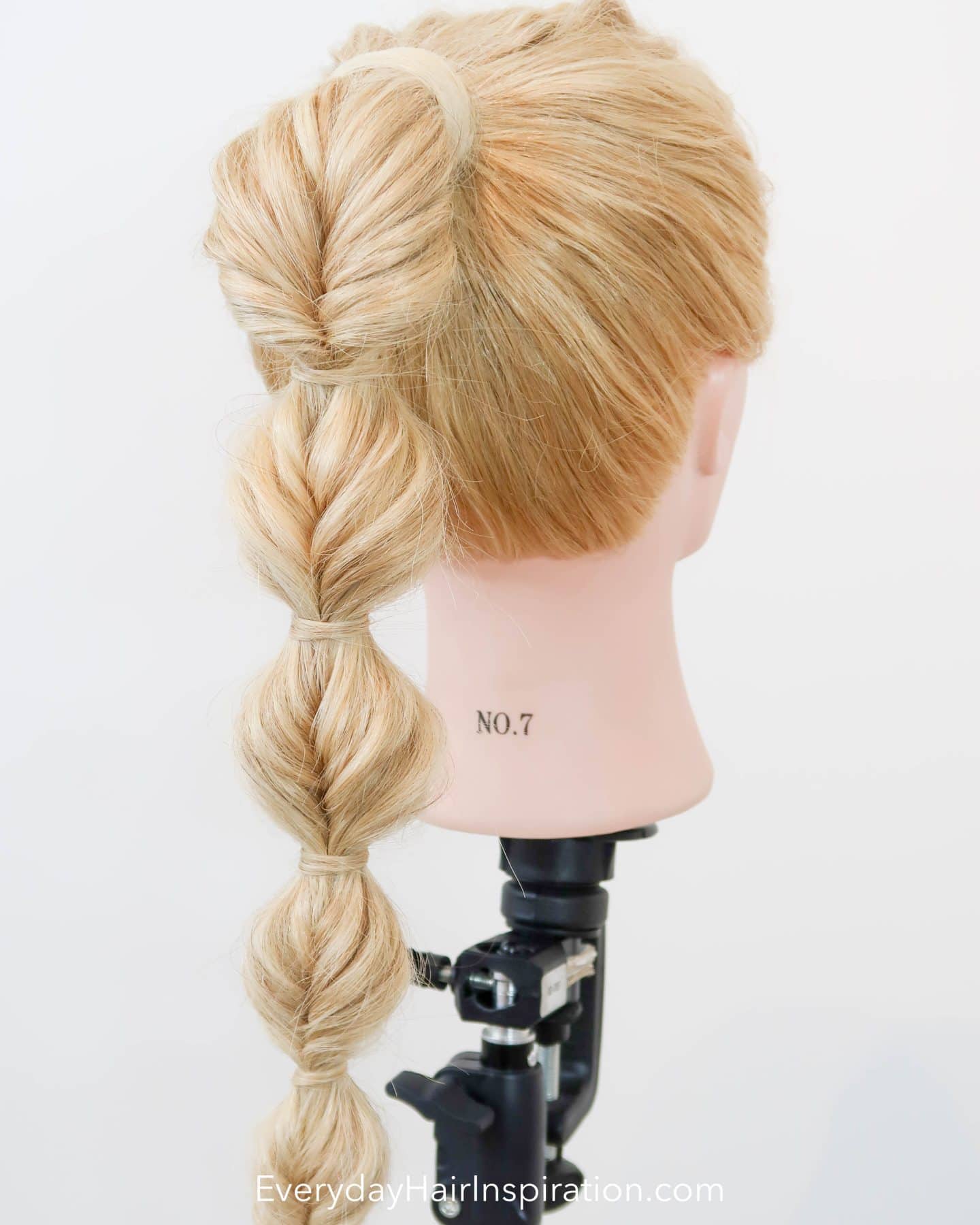 You dont have to do this hairstyle in a high ponytail, you can do a low pony, pigtails or even a half up half down hairstyle, what ever look you are going for!

Things you might need to do this hairstyle!
The links below are affiliate links. That means that at no additional cost to you, I will earn a commission if you click through the link and make a purchase. Read more on my disclosure page – click here to read.
Find all of my recommendations on hair products here – click here to read!
Fake fishtail Bubble braid step by step
Create a high ponytail and cover the elastic with hair (Tutorial linked below)
Tie an elastic around the hair a few centimeters down
Split the bubble in the middle and flip the ponytail through to create the fishtail look
Tighten the hair and pull in the sides to make the fishtail braid look even
Use a topsy tail tool to cover the elastic with hair (This can be skipped)
Repeat steps 2-6 until you reach the end of the ponytail
How To Cover An Elastic With Hair
If you want to cover the elastics with hair, then I'm showing you 3 ways to do that, which is an easy way to level up your hairstyle and make it look more put together quickly! Try out all 3 ways and figure out which one you find the easiest and then stick to that!
Other fake fishtail braid tutorials For you to try out!
How To Fake Fishtail Braid Step By Step For Complete Beginners
No one will ask you if this is a fake braid because it looks just like the real thing! The best thing about this braid is that because it's made out of small ponytails it won't unravel so it will last for a long time!

How to Fishtail Braid Using Only Elastic
If you just want a high ponytail with a fishtail braid and not a bubble braid, then this tutorial is what you need to try out! So get out your tiny elastics out and get styling that ponytail!

Easy Faux French Fishtail Braid For Beginners
This faux French fishtail braid looks beautiful, but I will say it's quite time-consuming but totally worth it! This can also be made into a half-up half-down hairstyle, just stop the braid when you get to the middle of the back of the head!
This post was all about how to do a fake fishtail braid for beginners!