Waterfall braids are such a beautiful braid, but if you have never braided before, then it can be quite a daunting braid to do. So here is a simpler version of a waterfall braid that requires no braiding and can be done by anyone!
This easy waterfall braid hairstyle is perfect for an elevated everyday hairstyle or for any special occasion you are invited to!
This post is all about creating an easy waterfall braid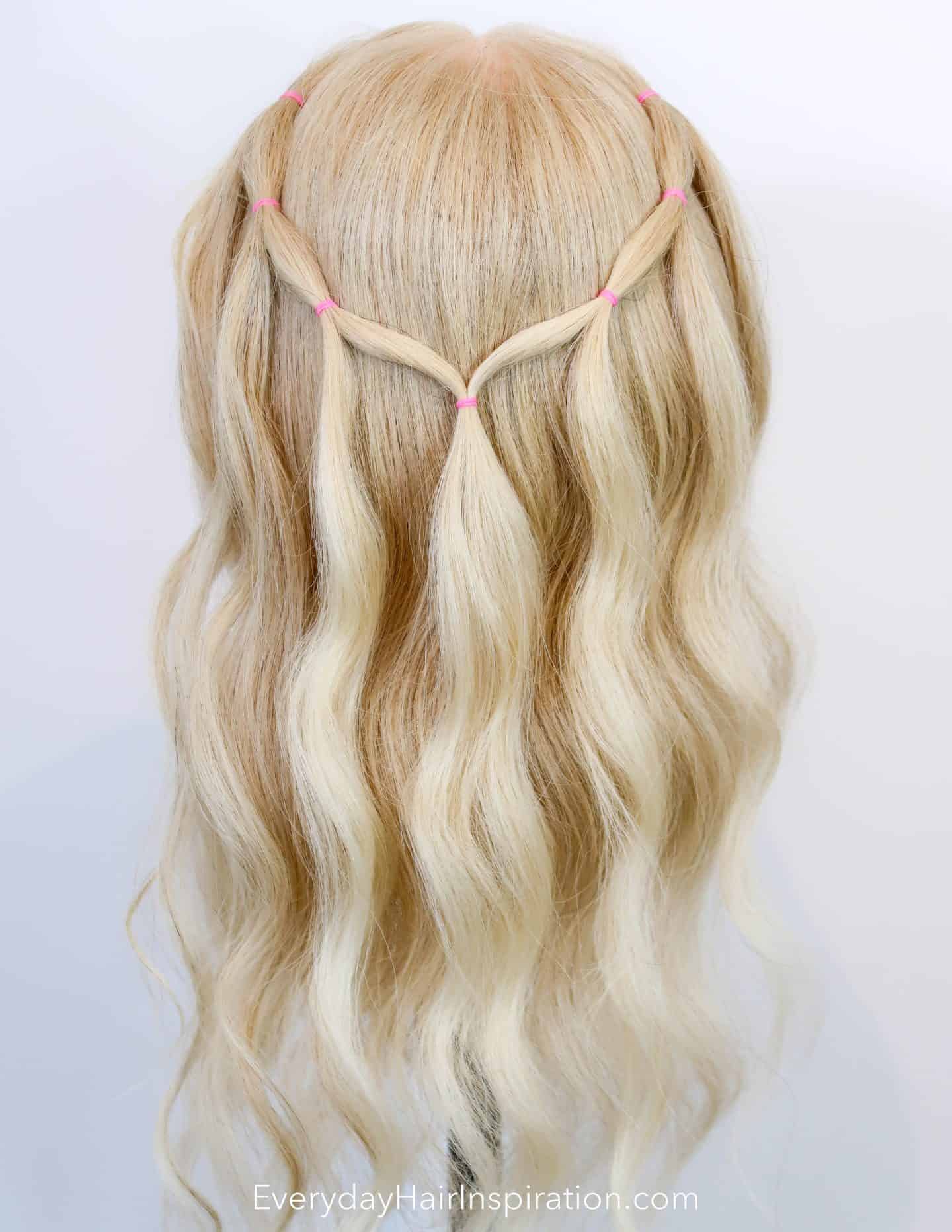 This braid is also perfect for small kids who are very active, whereas a "normal" waterfall braid might not last all day in the hair! And to involve your child, you can let them choose which color elastic they want – only one color, a cute rainbow, or a fading effect – there are so many options and you can add whatever beads and hair jewelry you have lying around!
THINGS YOU MIGHT NEED TO CREATE THIS HAIRSTYLE
The links below are affiliate links. That means that at no additional cost to you, I will earn a commission if you click through the link and make a purchase. Read more on my disclosure page – click here to read.
Find all of my recommendations on hair products here – Clik here to read!
Quick & Easy Waterfall Braid With Elastics – NO BRAIDING! 
Easy Waterfall braid step by step
Time requirement: 5-7 minutes
Braiding level: Easy
Grab a rather big section of hair in the front and tie it off with an elastic
Take a small section of hair from the ponytail you just created and let it fall down to give the waterfall effect
Secure the rest of the ponytail with a new elastic a few centimeters down the hair
Repeat steps 2-3 until you reach the back of the head
Now create a "braid" on the other side so you have 2
Take both ends of the "braids" and tie them together at the back of the head

How To Take Out Hair Elastics The Easy Way (NO MORE HAIR PULLING)
Hairstyles with tiny elastics look amazing, but we all know the struggle that comes with tiny elastics when taking them out. So I'm going to share with you a MUST-HAVE tool to take out the elastics, in seconds – pain-free!
It's so easy to use! You just slide the pointy bit under the elastic, pull it down, and boom! The elastic is cut open and you can easily remove the pieces and move on to the next one!
Highly recommend this tool!

More Easy Waterfall Braid Tutorials
How To Waterfall Your Own Hair For Beginners
If you want to learn how to waterfall braid your own hair, then this is one of my best videos for that!! When you do a waterfall braid, you can do 2 and tie them together at the back of the head to create a beautiful half up half down or you can create 1 braid that goes from one side to the other as I did in the video!
Fake waterfall braid for beginners
If you cannot braid for your life, then this fake waterfall braid is for you! All you need to know is a basic 3-strand braid and that's it! Owning a topsy-tail tool will help you a lot as well, but it's not necessary if you don't have one. This hairstyle is so easy to do and it will earn you so many compliments!
How To Waterfall Braid For Beginners
If you know how to do a french braid, then the basic waterfall braid shouldn't be any problem for you as it's almost the same technique. In the waterfall braid, you just skip a few steps to get the waterfall effect. To give the braid a more feminine touch you can create some curls or waves in your hair!
This post was all about how you can learn how to do an easy waterfall braid step-by-step for beginners!