This post may contain affiliate links, Please read my disclosure page  for more information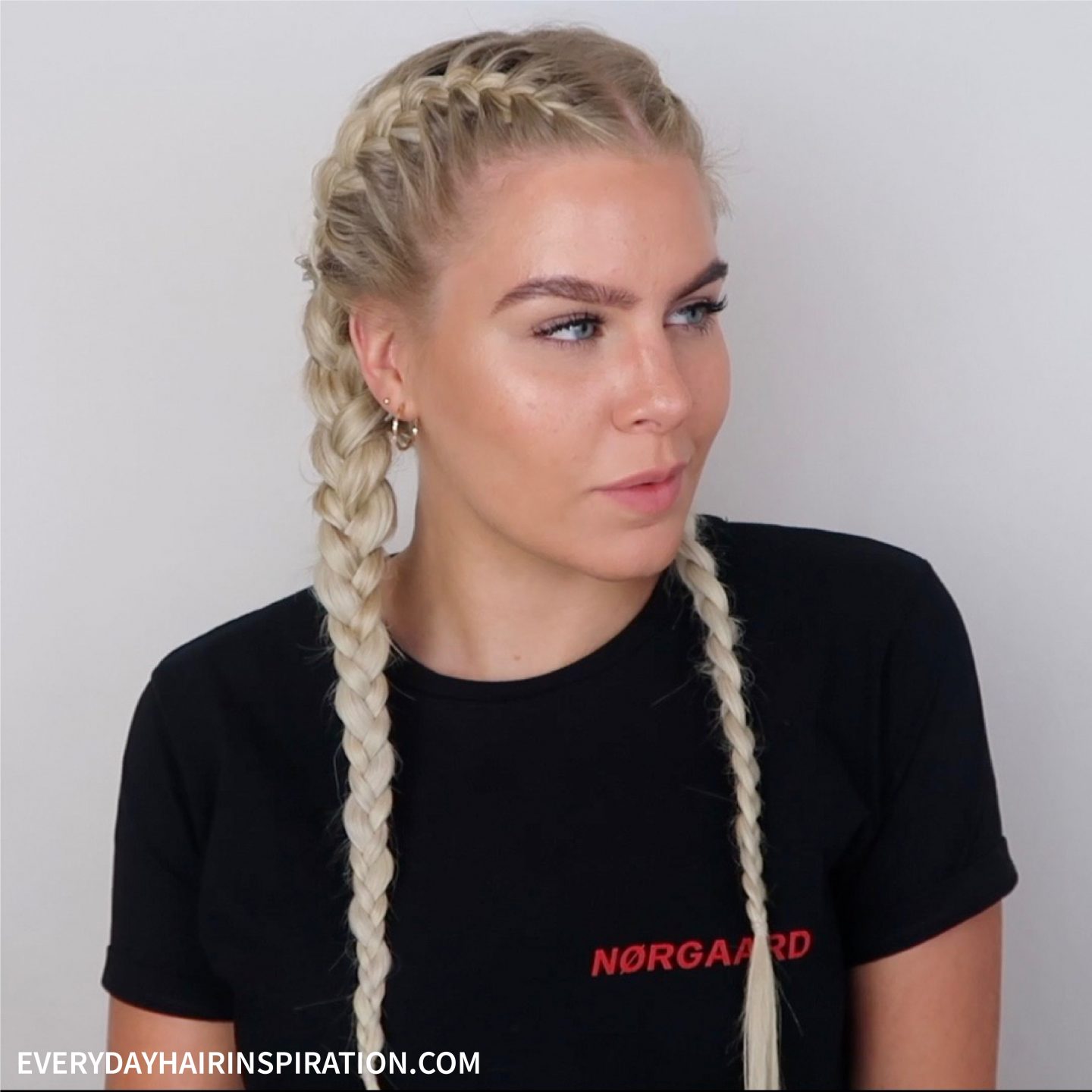 Today I'm showing you how to french braid your hair with extensions, so you can't see them. Once the extensions are clipped in is very easy to do, if you know how to french braid. If you don't know how to french braid, then click here to read my "How To French Braid Step By Step" blog post. I love french braids because they look really cute and it's a very practical hairstyle! So if you have short hair and want long braids, or you just want to add volume to your braids, then keep reading!
If you are more visual and like to watch a video instead of reading,  then you can watch my "How To French Braid With Hair Extensions"  tutorial here! Make sure to follow my Youtube channel here & Instagram here so you never miss a new hairstyle!
For this hairstyle, I used my Foxylocks hair extensions and the set I used is called Seamless Superior 230g 22″ clip-ins in the color Hollywood Blonde. If you are interested in Foxylocks extensions, then you can use the code "foxyAmalie" on foxylocks.com for a free gift!

HOW TO FRENCH BRAID STEP BY STEP
TIME REQUIREMENT: 15- 20 minutes
SKILL LEVEL: Medium
ITEMS NEEDED/PRODUCTS USED: 
The Wet Brush – https://amzn.to/2TBWFZc
Clear Hair Ties – https://amzn.to/2Kr71qC
Redken Styling Hairspray Forcefull 23  https://amzn.to/2DR85DD
Foxylocks Hair Extensions
STEP BY STEP GUIDE
Step 1: Part your hair in 2 sections down the back of your head
Step 2: Section of some hair in a curved shaped (see picture 5 for a side view)
Step 3: Clip the top part of the hair away with a hair clip
Step 4: Clip in a 3 clip extension to the curve
Step 5: Looks like this from the side
Step 6: Section of the hair extensions + a little bit of hair under
Step 7: Clip in a 2 clip extensions
Step 8: Let the hair down and clip in a 1 clip extensions at the top of your hair
Step 9: Braid your hair like a french braid (Click here for tutorial)
Step 10: Use some hairspray to spray the flyaways into place
Step 11: Repeat step 2-10 on the other side
Step 12: You are done!
FIND MORE INSPIRATION
So now that you know, how to french braid your own hair with extensions in, there are so many more hairstyles that you can do. So, click around here on the site and find more inspiration and more step by step tutorials! If you have any questions, feel free to leave a comment below. I will try and help you as good as I can!
Remember to follow my Youtube channel here & Instagram here so you never miss a new hairstyle!
MORE STEP BY STEP HAIR POSTS