Today I´m showing you, how you can do this beautiful bubble ponytail on yourself! Its easier to do than it looks, it's just a lot of small ponytails tied together and a lot of teasing. I think this ponytail is really classy and very practical and you can dress it both up and down. I saw this hairstyle on the Danish version of "Dancing With The Stars" and I absolutely loved it and had to recreate it for my channel and show you guys how to do it.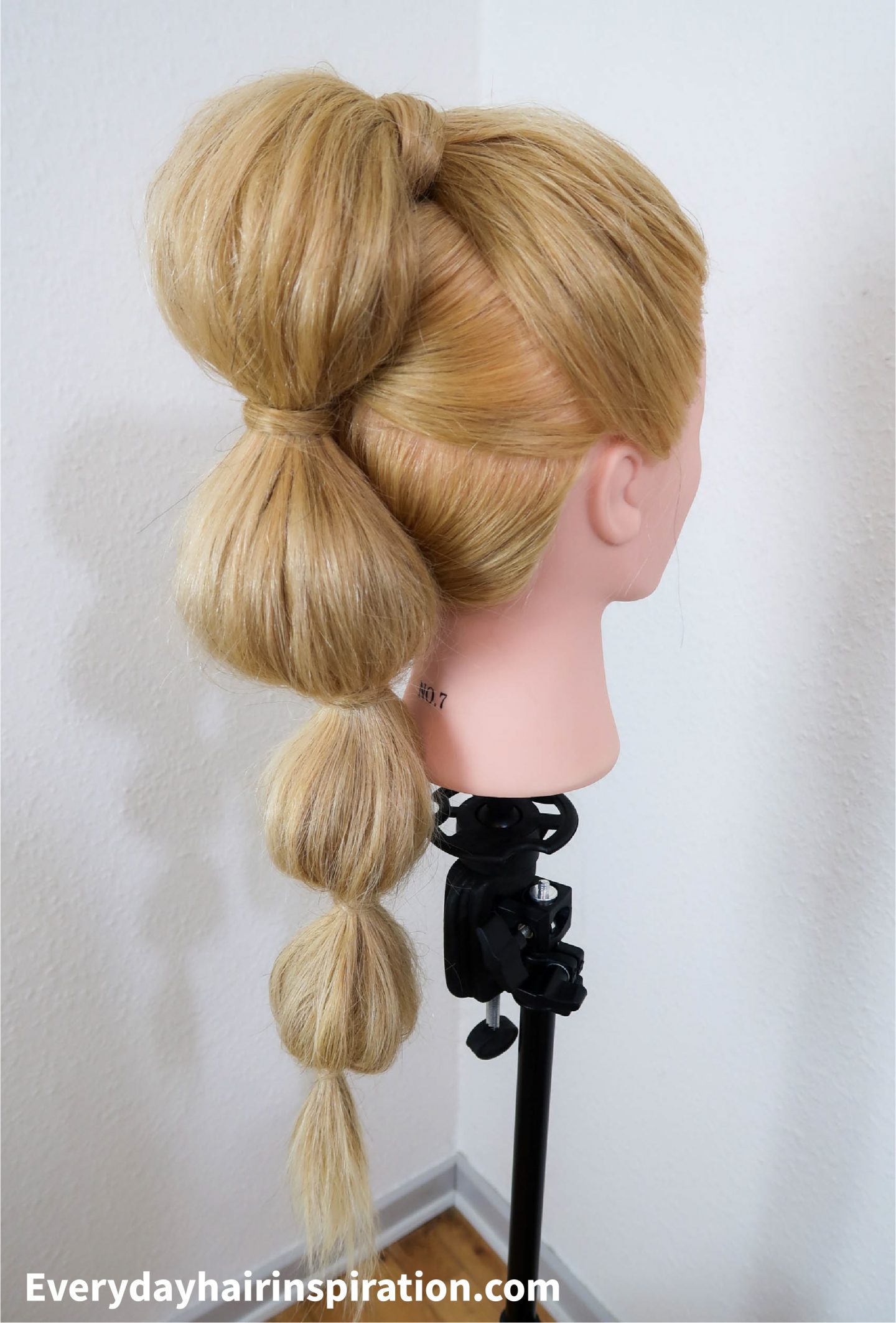 If you are more visual and like to watch a video instead of reading, then you can watch my "Bubble Ponytail Step By Step" tutorial here!
Also remember to follow my Instagram here and subscribe to my YouTube channel here+ click the notification bell, so you don't miss any new hairstyles!
HOW TO MAKE A BUBBLE PONYTAIL STEP BY STEP
TIME REQUIREMENT: 15-20 minutes
SKILL LEVEL: Medium
STEP BY STEP GUIDE
Step 1: Make a small ponytail that goes from your ears to the top of your head and cover the elastic with some hair.
Step 2: clip away the top ponytail and create a new ponytail that goes from ear to ear
Step 3: Tease the hair in the first ponytail, so there  is some volume when you have to create the first bubble
Step 4: Smooth out the top layer of hair, so the bubble will have a sleek look
Step 5: Take the hair from the first ponytail and the second ponytail and secure them together
Step 6: Pull in the hair to give the bubble more volume and the shape you want It to have
Step 7: Take a small section of hair from the back and cover the elastic
Step 8: Take the remaining hair and tie it into a small ponytail
Step 9: Tease the hair and smooth the top layer to give it a sleek look
Step 10: Take the hair from the second ponytail and the third ponytail and tie them together
Step 11: Pull in the hair to give the bubble more volume
Step 12: Cover the elastic with some hair
Step 13: Tease the hair and create a lot of volume
Step 14: secure the hair with an elastic and pull in the hair to create the bubble (repeat step 13-14 until you reach the end of your hair)
Remember to follow my Youtube channel here & Instagram here so you never miss a new hairstyle!
MORE STEP BY STEP HAIR TUTORIALS